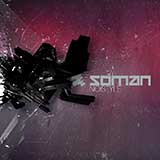 Noistyle
CD (2011) · CURRENTLY UNAVAILABLE
Kolja Trelle (aka SOMAN) is by far one of Germany's hottest exports in industrial dance music. Starting off as sound engineer and remixer, Trelle released his debut album
Sound Pressure
in 2003. With his own music he created a strong fusion of modern industrial beats and rhythms combined with the influence of warm melodic trance sounds. Featuring the club hit "Divine,"
Sound Pressure
quickly began storming DJ playlists worldwide, as did Soman's follow up efforts, such as the DAC chart topping
Unleash EP
and album entitled
Mask
. Soman now returns to Metropolis for the new album
Noistyle
and once again delivers an album of uncompromising sound structures, mixing Noise, Electro, Industrial and Techno to devastating effect. As with each of its predecessors,
Noistyle
expands the boundaries of Soman's beat driven repertoire.
Track List
01. Noistyle
02. Waste
03. Major Dysfunction
04. Let Me Go
05. Side Chain (feat. Vigilante)
06. Skin Deep (feat. Lahannya)
07. Fear Itself
08. Body Mod
09. Transmitter
10. Blackout
11. Blue Monday (Soman Remix feat. Sarah Blackwood)
Also See