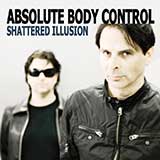 Absolute Body Control
Shattered Illusion
CD (2011) · CURRENTLY UNAVAILABLE
Also available:
Digital $8.90
Following the release of a collection of classics titled
Wind[Re]Wind
, Absolute Body Control is back with
Shattered Illusion
! Dirk Ivens and Eric van Wonterghem return with a whole new set of classic tracks, featuring modern sound recording techniques that blend seamlessly with the roots of low-fi electro. An absolute nod to the past,
Shattered Illusion
beautifully points to the early roots of electronic pop and industrial. Absolute Body Control was formed in 1980, and the band members have been influencing and inventing genres ever since.
Track List
01. What Took You So Long?
02. Sorrow
03. Surrender No Resistance
04. Eins Zwei Drei Vier
05. Never Seen
06. Stardust Forever
07. Any Second Now
08. Shattered Illusion
09. Into The Light
10. Talking To The Man
Listen
(Tracks from the digital version)
| | | | | |
| --- | --- | --- | --- | --- |
| | What Took You So Long? | 3:06 | | |
| | Sorrow | 4:14 | | |
| | Surrender No Resistance | 4:31 | | |
| | Eins Zwei Drei Vier | 2:04 | | |
| | Never Seen | 4:08 | | |
| | Stardust Fever | 4:43 | | |
| | Any Second Now | 1:16 | | |
| | Shattered Illusion | 3:12 | | |
| | Into The Light | 5:06 | | |
| | Talking To The Man | 5:17 | | |