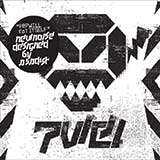 Pop Will Eat Itself
New Noise Designed By A Sadist
DIGITAL (2011) · Listen & Buy on Bandcamp
Also available:
CD $8.98
A new era dawns for iconic band Pop Will Eat Itself, with a revival by principal songwriter and co-frontman Graham Crabb. This unique band, whose influence touched the careers of acts such as The Prodigy and Nine Inch Nails, still has a large, strong following worldwide.
After the 1986 debut, Pop Will Eat Itself made its mark on the independent music world by morphing from indie pop wonders into hip-hop rock crossover pioneers. Years ahead of their time, PWEI produced a furious mix of beatboxes, metal riffs, MC'ing and pop songs. Industrial grooves, machine precise rhythms, and infectious grooves still prevail on
New Noise Designed By A Sadist
, as evidenced by standout tracks such as "Nosebleeder Turbo TV," "Equal Zero," and the pummeling "Seek & Destroy." Crabb faced the challenge of creating a classic PWEI album a full 25 years after the first EP release. The result,
New Noise Designed by A Sadist
, is an album that sounds more exciting and relevant than most of what is being produced in 2011.
Track List
01. Back 2 Business
02. Chaos & Mayhem
03. Nosebleeder Turbo TV
04. Captain Plastic
05. Mask
06. Equal Zero
07. Oldskool Cool
08. Seek & Destroy
09. Disguise
10. Wasted (part 1)
11. Wasted (reprise)