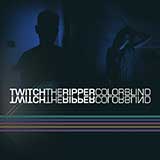 Colorblind
DIGITAL (2012) · $8.90   add to cart Bandcamp: International & Lossless
Also available:
CD $8.98
Connecticut's Twitch The Ripper is the brainchild of singer/songwriters Jon Dobyns and Lonn. The two hung up their coats from performing nationally and internationally in hardcore / punk bands together in 2009, desperately in need of a fresh outlet and a change of pace. The synth pop duo self released a demo/EP followed soon after by their first full length. This was the
Bodiless
LP, which received praise from multiple media outlets. Fearnet hailed," it's their moody, '80s-influenced melodies and vocals that tie the whole package together, and that element has led many listeners to compare them favorably with the post-punk icons of that decade, including New Order and Depeche Mode. Not too shabby for a band that's only been on the scene for a couple of years." Within weeks of the release of
Bodiless
, and regional shows with Nitzer Ebb, Xiu Xiu and The Birthday Massacre, TTR was selected to open for industrial legends, My Life With The Thrill Kill Kult and 16Volt on a full national tour. From there, Jon and Lonn stayed on the road throughout the next few months supporting their record and soon to be label mates, Imperative Reaction, God Module and System Syn.
Fresh off the road from touring 3/4 of the year, the TTR boys began writing new material at the end of 2011. While in the middle of production of a new record, TTR was picked up by Metropolis in early 2012. Their newest effort,
Colorblind
will see a worldwide release in this summer. On record and through their live performances, the duo showcase a rare and honest vulnerability. With the heartfelt lyrical sentiments and human emotion,
Colorblind
is deep and alluring. As Twitch dabbles through all their new wave and post punk influences, they drizzle early sounds of Pet Shop Boys and New Order throughout the record, bringing a neoteric glamour to a familiar fashion.
Listen & Buy
Also See