COLD WAVES: THE JAMIE DUFFY MEMORIAL CONCERT
July 11 2012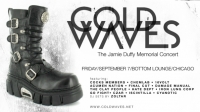 COLD WAVES: THE JAMIE DUFFY MEMORIAL CONCERT
Jamie Duffy 1973-2012
Some of Industrial Music's finest musicans will perform as a collective at Bottom Lounge in Chicago on Friday, Sepetmber 7th, 2012 to celebrate the life of Jamie Duffy, who passed away on June 21st of this year
Having become an integral part of the local Chicago Music scene, Jamie Duffy worked at such notable live concert venues such as the House of Blues, Cubby Bear, Cabaret Metro and more as a stage manager and also sound man. He learned to perfect his craft at Chicago's infamous Chicago Trax where he provided technical support and engineering on albums by Chicago's very own Ministry, Sister Machine Gun, Chris Connelly, Sister Soleil, Method Man and more
In addition to being a sound engineer and producer, Jamie was also well known across Industrial Music's landscape for his contributions as a member of the Coldwave/Metal hybrid band, Acumen Nation and the Drum and Bass project, Dj? Acucrack.
Jamie Duffy's contribution to the Metal and Industrial genres crosses over from releases on major record labels such as Warner Bros. Records and RCA records, to large independents such as WaxTrax!Records, to the smaller independent labels such as Invisible, Underground Inc, CrackNation records, WTII Records, Fifth Column records and Metropolis records
If unknown by the wider record buying and concert going public, Jamie Duffy was recognised by his musical peers as one of the greatest stage managers and sound men that Chicago has seen, not too mention his technical and production skills on some very influential albums. Jamie is survived by his mother Patricia Duffy
Friday September 7th's concert starts at 7pm (tickets $20-$50), finishing around 1am with all proceeds going to assist Jamie Duffy's family with funeral costs. Paying tribute to this great man will be several of Jamie Duffy's peers and friends with whom he produced, remixed, engineered or just plain influenced. An all star cast including such well known names of the industrial genre includes Paul Barker, Chris Connelly, Jared Louche, Martins Atkins, Steven Seibold, Jim Marcus, Jason Novak, Eric Powell will be performing selections of songs by their bands; Revco, Chemlab, 16volt, Acumen Nation, Damage Manual, Hate Dept.Claypeople, Go Fight/Die Warzau and more , while finishing with an all star jam worthy to pay their respect to this great man.