LORDS OF ACID PLOT NORTH AMERICAN TOUR! This Fall!
May 31 2017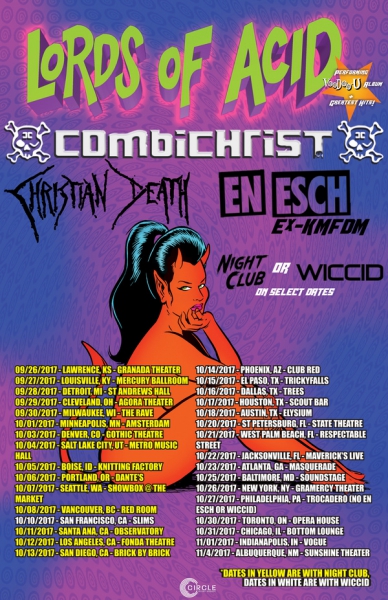 May 31, 2017, Brussels, Belgium – Lords of Acid, the legendary Belgian dance-industrial hybrid fronted by Praga Khan, return to North America this fall for the outfit's first tour of the continent in six years.
"2017 has been an exciting year for Lords of Acid. We are happy to be finally re-releasing our out of print classic albums LUST, Voodoo-U, Our Little Secret, and Farstucker for our fans," said Khan of the Metropolis Records' reissues. "I think we have an amazing tour planned. It will be a great experience for our fans to see Voodoo-U performed in its entirety along with our other classic hits. We're also very happy to bring such a talented group of bands new and old out with us."
The 5-week tour kicks off on Sept. 26 at the Granada Theater in Lawrence, Kan.  Openers for the trek include Combichrist, Christian Death, En Esch (ex-KMFDM) and Night Club or Wiccid on select dates. VIP packages are available this Wednesday at 10 am Pacific time via Soundrink (lordsofacid.soundrink.com), with general admission tickets available this Friday at 10 am Pacific time.
September 26  Lawrence, KS  Granada Theater
September 27  Louisville, KY  Mercury Ballroom
September 28  Detroit, MI  St. Andrew's Hall
September 29  Cleveland, OH  Agora Theater
September 30  Milwaukee, WI  The Rave
October 1  Minneapolis, MN  Amsterdam
October 3  Denver, CO  Gothic Theatre
October 4  Salt Lake City, UT  Metro Music Hall
October 5  Boise, ID  The Knitting Factory
October 6  Portland, OR  Dante's
October 7  Seattle, WA  Showbox at The Market
October 8  Vancouver, BC  Red Room
October 10  San Francisco, CA  Slim's
October 11  Santa Ana, CA  The Observatory
October 12  Los Angeles, CA  Fonda Theatre
October 13  San Diego, CA  Brick By Brick
October 14  Phoenix, AZ  Club Red
October 15  El Paso, TX  Tricky Falls
October 16  Dallas, TX  Trees
October 17  Houston, TX  Scout Bar
October 18  Austin, TX  Elysium
October 20  St. Petersburg, FL  The State Theatre
October 21  W. Palm Beach, FL  Respectable Street
October 22  Jacksonville, FL  Maverick's Live
October 23  Atlanta, GA  The Masquerade
October 25  Baltimore, MD  Soundstage
October 26  New York, NY  Gramercy Theater
October 27  Philadelphia, PA  Trocadero
October 30  Toronto, ON  Opera House
October 31  Chicago, IL  Bottom Lounge
November 1  Indianapolis, IN  The Vogue
November 4  Albuquerque, NM  Sunshine Theater
Night Club opens Sept. 26 to Oct. 8; Oct. 11 to Oct. 13
Wiccid opens Oct. 10; Oct. 14 to Nov. 4
Founded by Khan in the late '80s, Lords of Acid garnered a rabid international fanbase who continue to celebrate the outfit's unique mix of electronic and industrial music.