LORDS OF ACID SIGN TO METROPOLIS WITH EYE ON FALL RELEASE
March 23 2011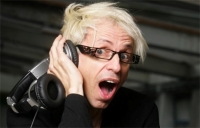 PHILADELPHIA, Mar. 23 - Lords of Acid, the legendary Belgian dance-industrial hybrid fronted by house wizard Praga Khan, have signed with Metropolis Records with their first album in a decade coming this fall.
Khan, who is currently touring the U.S., has been working on new music for the last year and is thrilled to partner with Metropolis for the upcoming full-length as well as a forthcoming EP titled Little Mighty Rabbit (August release). "I am extremely happy Lords of Acid are joining Metropolis. They are the premier label in North America for our genre. It was very important to partner with an artist friendly label that connects well with our audience. I look forward to a long and successful relationship. "
Lords of Acid formed in 1988 and have released a series of singles and compilations but only four studio albums to date. The band's Voodoo-U is their biggest selling release to date, recently certified gold (sales in excess of 500,000 copies) in the U.S.
Metropolis Records is the largest U.S. label for industrial, power noise and dark ambient music including artists KMFDM, Combichrist, The Birthday Massacre, Angelspit, and Army of The Universe.