SKOLD Guitar Giveaway by Metropolis Records!
April 29 2011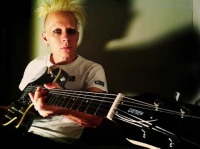 Hey, SKOLD fans - want to win Tim's own Gretsch 'Black and Silver Sparkle Jet' Guitar?
We are nearing the end of the autographed cards to be sent out with the first 1111 pre-orders but wait, there's more! We saved the best surprise for last.
To reward all pre-orders and week of orders we will be picking at random one of the Anomie orders made through Metropolis Records Mailorder to receive a personalized signed guitar from SKOLD! This very guitar was used in the recording of the album.
All you need to do is go to this link:
http://www.metropolis-mailorder.com/product.php?prodnum=MET+710
and get your order locked in before the cut off date of May 16th!
Note; Metropolis Mail order ships out the Friday before release .... so you will get your album by release day if not the day before!
(If you've already pre-ordered Anomie through Metropolis Records, don't worry - you're already eligible.) See the photo below for the actual guitar to be given out!
Also, SKOLD's lead single Suck is now officially out! Get your SKOLD fix between now and Anomie's May 10th release date by getting your copy of Suck here:
Suck on iTunes:
http://itunes.apple.com/ca/album/suck/id420654988
Suck on Amazon:
http://amzn.com/B004NTMNAO
Suck CD from Metropolis:
http://www.metropolis-mailorder.com/product.php?prodnum=MET+705
Don't forget you can show the online world how much you love SKOLD - get your Anomie banners now at
http://www.skold.com/mi.php
℗ & © 2011 Metropolis Records.
Related Releases