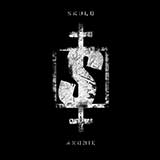 Anomie (Deluxe)
DIGITAL (2011) · Listen & Buy on Bandcamp
Digital Only Deluxe Version featuring two bonus tracks!
SKOLD waylays 2011 with his first solo album in 15 years! After delivering a snarky CD single entitled
Suck
on April 12, the stage is set for the May 10th, 2011 release of
Anomie
. As
Suck
set the beachhead for SKOLD's assault on the musical landscape of the new year,
Anomie
takes up the flag and fearlessly charges headlong into the musical fray. The album flows seamlessly through the cocksure swagger of "(This Is My) Elephant" and "Satellite", the machinegun-rhythms of "Angel Of Noise" seething menace of tracks like "Becoming" are perfectly balanced by the danceable, driving tempo of "Tonight". Don't be mistaken, the album has its intensely personal moments. The songs "Miserably Never After" and "The Hunger" show Tim Skold baring his heart, beautifully.
Anomie
proves SKOLD steps up once again, supplying sonic solvent for the huffing social cynics.
Track List
01. (This Is My) Elephant
02. Suck
03. Black Out
04. Angel Of Noise
05. Satellite
06. Becoming
07. The Hunger
08. Here Comes The Thunder
09. And Then We Die
10. Miserably Never Ever
11. Tonight
12. What You See Is What You Get
13. Polka Dot Dress
14. Deserve
Also See