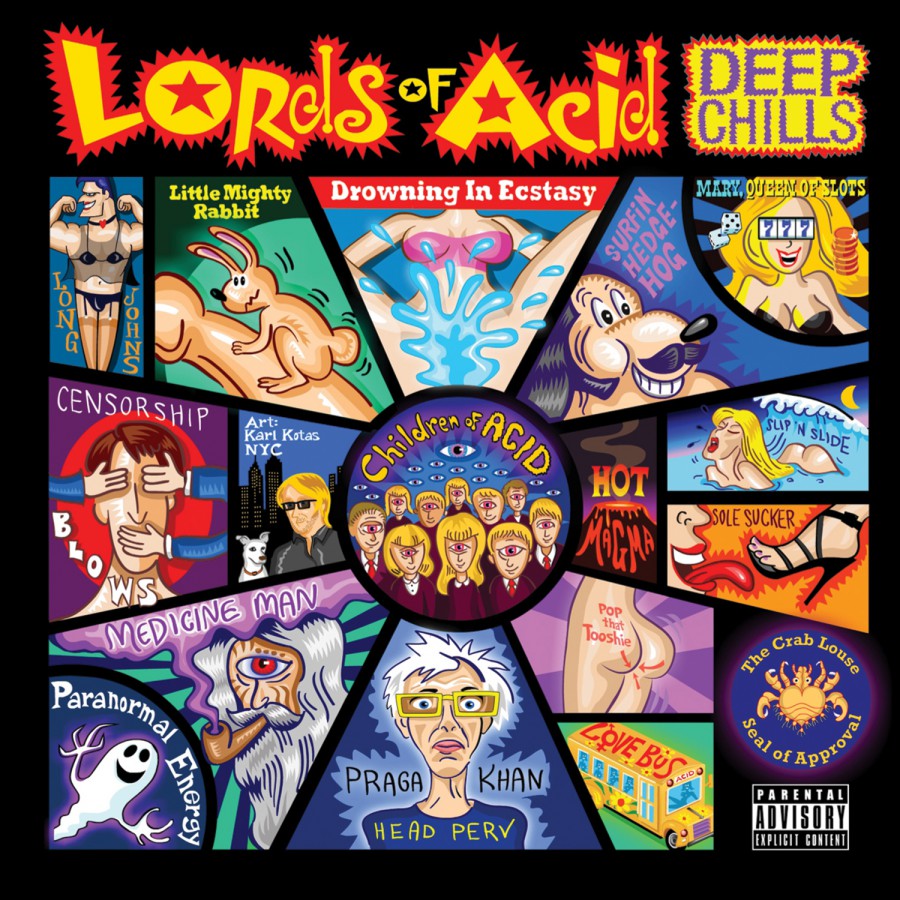 Deep Chills
CD (2012) · $12.98   add to cart Listen & Buy on Bandcamp
Lords of Acid, the Belgian electro-industrial-techno outfit fronted by the legendary Praga Khan, has returned with
Deep Chills
, the outfit's first new album in twelve years. Khan & longtime collaborator Erhan Kurkun (music and arrangements) follow up the smash success of the comeback single
Little Mighty Rabbit
with an all-new sonic orgy, and this time they have invited along musical perverts Murv (bass), Virus (Guitar), Kirk (Drums) and DJ Mea (Vocals). With
Deep Chills
, the Lords once again defy convention, expectations, and some would say, standards of decency. From the
Our Little Secret
era influenced bounce of "Pop That Tooshie", to the driven, acid house flavored, anthemic beats of "Children of Acid" and the elecro-rock vibe of "Love Bus",
Deep Chills
offers an innovative, updated take on the deviant sounds that make Lords of Acid so loved. Not ones to shy away from a little experimentation, Khan and co. expand their musical repertoire in all sorts of interesting directions. The surf rock and punk flavored "Surfin' Hedgehog" will have you singing along instantly. The alt-country tinged "Slip N Slide" answers the question "What if Cowboy Junkies wrote really, really dirty songs?" The track "Paranormal Activity" features guest vocals by Zak Bagans (TV Host/ Producer for Ghost Adventures & Paranormal Challenge, NY Times Best-Selling Author of
Dark World
) and blends dark, menacing, stabbing trip-hop, haunting synths, and classic Lords of Acid grooves.
All in all,
Deep Chills
proves that Praga Khan remains one of the most innovative musicians in circulation. From the raw carnality of their 1991 release
Lust
to the electro-thrash of 2000's
Farstucker
, Lords of Acid has re-defined the pure pleasures of drugs, hedonism, and deviant sex for nearly twenty-two years. Now, despite numerous lineup changes, world tours, over 2.5 million album sales, and every possible point of crisis and conflict a band can face, Lords of Acid is returning to the unsuspecting again, this time with a new crew of deviants, dilettantes, and sonically transmitted diseases.
Track List
01. Little Mighty Rabbit (Album Version)
02. Drowning in Ecstasy (Album Version)
03. Long Johns
04. Sole Sucker (Album Version)
05. Pop That Tooshie (feat. Alana Evans)
06. The Love Bus
07. Children of Acid
08. Hot Magma
09. Medicine Man
10. Censorship Blows
11. Slip 'n Slide
12. Mary, Queen of Slots
13. Paranormal Energy (feat. Zak Bagans)
14. Surfin' Hedgehog
Also See