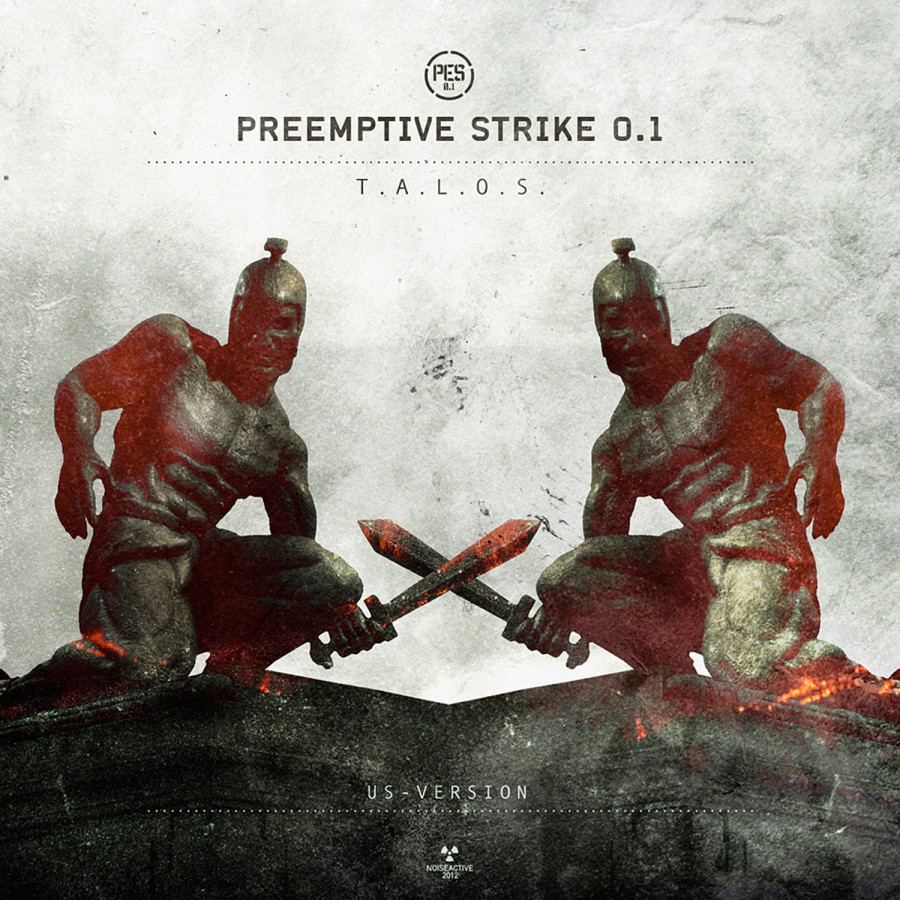 T.A.L.O.S.
CD (2012) · CURRENTLY UNAVAILABLE
Also available:
Digital $8.90
TALOS - ΤΑΛΩΣ
The giant man of bronze, forged by Hephaestus and gifted to Minos to serve as protector of the island of Crete.
Infacted Recordings and Metropolis Records present the new album by PreEmptive Strike 0.1.
Diverse, complex, harsh electro featuring traditional Greek instruments (bouzouki - lyra) and unique guest appearances from Shiv-r, Phosgore, Raven Wings, Project Rotten and Niklas Kvarforth of legendary, Swedish black metallers Shining/Skitliv.
Track List
01. T.A.L.O.S. [extended]
02. Bedingungslose Kapitulation
03. Hubris [infinite]
04. Omnivorous Lurkers
05. Titans Awake
06. Raketenschlag [vs. Phosgore]
07. Pierce Their Husk [feat. Niklas Kvarforth of Shining]
08. Seasons In The Abyss
09. The Scorcher [feat Raven Wings]
10. Zeitgeist [sub specie aeternitatis]
11. Invisible Invaders
12. Bedingungslose Kapitulation [Sleepwalk remix]
13. T.A.L.O.S. [Second Disease edit]
Listen & Buy
(Tracks from the digital version)
| | | | | |
| --- | --- | --- | --- | --- |
| | T.A.L.O.S. (extended) | 6:02 | $ 0.89 | buy mp3 |
| | Bedingungslose Kapitulation | 5:30 | $ 0.89 | buy mp3 |
| | Hubris (infinite) | 5:10 | $ 0.89 | buy mp3 |
| | Omnivorous Lurkers | 4:38 | $ 0.89 | buy mp3 |
| | Titans Awake | 5:21 | $ 0.89 | buy mp3 |
| | Raketenschlag (vs. Phosgore) | 3:59 | $ 0.89 | buy mp3 |
| | Pierce Their Husk [feat. Kiklas Kvarforth of Shining] | 4:22 | $ 0.89 | buy mp3 |
| | Seasons In The Abyss | 4:58 | $ 0.89 | buy mp3 |
| | The Scorcher (feat. Raven Wings) | 4:14 | $ 0.89 | buy mp3 |
| | Zeitgeist (sub specie aeternitatis) | 4:27 | $ 0.89 | buy mp3 |
| | Invisible Invaders | 4:38 | $ 0.89 | buy mp3 |
| | Bendingungslose Kapitulation (Sleepwalk remix) | 5:13 | $ 0.89 | buy mp3 |
| | T.A.L.O.S. (Second Disease edit) | 4:26 | $ 0.89 | buy mp3 |
Also See