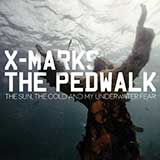 The Sun, The Cold And My Underwater Fear
DIGITAL (2012) · $8.90   add to cart
Also available:
CD $8.98
X Marks the Pedwalk burst onto electro-industrial scene in the beginning of the 1990s. XMTP's debut full-length recording, 1991's
Freaks
immediately established the act as a major force in the newly emerging industrial dance genre. Over the next few releases, the sound of XMTP evolved, slowly the harshness of earlier releases faded away and the act experimented with blending more mainstream techno elements, culminating in 1996's
Meshwork
, which was met with cries of approval throughout the hard electro scene. The release of the album
Drawback
saw a triumphant blend of influences and musical growth, with styling ranging from more mainstream electro to moody synthetic soundscapes. Then, at the peak of the acts creative output, X Marks The Pedwalk went dormant. A decade later, the legend returned with
Inner Zone Journey
. Showing that the musical genius of XMTP mastermind Sevren Ni-Arb has not dulled over time,
Inner Zone Journey
proved to be just that, a progressive musical document of self-exploration.
The Sun, The Cold And My Underwater Fear
is a compelling continuation of that voyage of self-discovery and this time XMTP takes us on a journey through what haunts us. From vocalist Estefania's soft pleading on the opening "You Are Gone", the trance-like "Fallen Angel" to the darker, more rhythmic "Tormented Skin" & "No!", we find XMTP in top form.
Listen & Buy