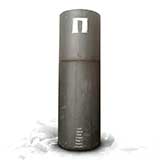 Pankow
And Shun The Cure They Most Desire
DIGITAL (2013) · Listen & Buy on Bandcamp
Also available:
CD $15.98
The band formed in Florence in 1979 and started experimenting with electronic machines in 1981. Sporting a pragmatic mix of big beats, the unbridled urge to experiment, purposeful provocation and a big hunk of pure gaga, the Electro-/EBM-pioneers have always held an exceptional position in the scene. Club compatible? Yes. Strange? You bet! Showing the finger and sticking out their tongue at everything that moves while simultaneously lunging out with a massive, electronic kick in the ass, Pankow has not lost an iota of uniqueness, although it has been some 30+ years in existence. Be it on their own or at the hands of resourceful remixers, the Italians remain anything but predictable.
And Shun The Cure They Most Desire
proves that noisy Industrial-beats can be a good partner for a catchy, anthemic tune, and Old-School-EBM stomper, dark onslaughts of fat Electronica, minimalistic Noise-Pop-songs, Electroclash – anything goes, as long as it's hitting hard. Is this EBM? Industrial Pop? Electro Rock? Catchy cacophony? Old school? New school? Any school? It's Pankow. Let's just call it ground-breaking… as always.
Track List
01. Great Minds Against Themselves Conspire
02. Dirty Old Men
03. Logophobia
04. Crash and Burn
05. Mortality
06. Escape from Beige Land (MMXII)
07. Regenerated Degenerated
08. Radikal
09. Kein Entkommen
10. Don't Follow
11. No More Sleep
12. Suffocate
13. Mortality a[rmx]ageddon
14. Das Wodkachaos (fm rmx with bram declercq)
15. Deny Everything (fm rmx with bram declercq)
16. Sickness Taking Over (rmx by Rabia Sorda)
17. Crash and Burn (rmx by paolo.f)
18. Me and My Ding Dong (rmx by Tying Tiffany)
19. Suffocate (rmx by Ambassador 21)
20. Das Wodkachaos (rmx by Schwefelgelb)
21. Sickness Taking Over (tekknoware rmx by paolo.f)
22. No More Sleep (rmx by Ritualz)
23. Extreme (fm rmx with bram declercq)
24. Gimme More
(fm rmx with bram declercq)
25. A Wine Called Anarchy (fm rmx with bram declercq)
26. Sickness Taking Over (fm rmx with bram declercq)
27. Don't (fm rmx with bram declercq)
28. Me and My Ding Dong (fm rmx with bram declercq)
29. Das Wodkachaos (rmx by Binary Park)