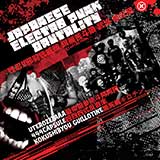 Japanese Electro Punk Brutality
CD (2014) · $12.98   add to cart Listen & Buy on Bandcamp
Japanese Brutality: 25 tracks, 75 Minutes of the best in Japanese Electro Punk! This album is assembled by cEvin Key, who says "These are some of the hardest bands I've ever witnessed in my 15 shows and 10 trips to JAPAN over the past 6 years. Playing with these guys was a challenge, as they made the words "New Punk", very relevant to me. Something is missing in the worlds view of Punk. Not with these guys. They live the way I remember punk being. Street level, honest, simple and aggressive. The album is set up like a mini gig, 3 bands and one loud PA. Play it loud!
Track List
01. 444Capsule Shut a mouth
02. 444Capsule Kill by silence
03. 444Capsule Falling
04. 444Capsule Control
05. 444Capsule Residual ash
06. Kokushibyou Guillotine Continent of the curse
07. Kokushibyou Guillotine The possession
08. Kokushibyou Guillotine The cannibals are full stomach
09. Kokushibyou Guillotine My sweet baby (Witch of Kanzatobaru ver.)
10. Kokushibyou Guillotine Tsuboyanuma hunchback
11. Kokushibyou Guillotine MABOROSHI (Gravepost disappeared)
12. Kokushibyou Guillotine Cruel news from Naha-city
13. Utero ZZZAAA CyberPUnk Death Machine Osaka
14. Utero ZZZAAA Blood of Yamato
15. Utero ZZZAAA Digital Hard Enka(mf Japamerica MX)
16. Utero ZZZAAA Don't ca// me Punk
17. Utero ZZZAAA What do u protect in ur life?
18. Utero ZZZAAA Hero of he//
19. Utero ZZZAAA Last word of Samurai
20. Utero ZZZAAA OWO
21. Utero ZZZAAA Genelation UTR
22. Utero ZZZAAA prelude
23. Utero ZZZAAA Super egoist
24. Utero ZZZAAA Election Buster
25. Utero ZZZAAA All Japan Kamikaze Guerilla Gang(UTR2)
Also See