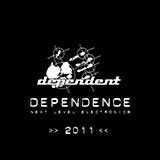 Dependence 2011 (digital only)
DIGITAL (2011) · Listen & Buy on Bandcamp
Metropolis Records proudly presents
Dependence 2011
, a low-price label compilation from our friends at Dependent Records in Germany.
Dependence 2011
features brand new songs and spectacular remixes from the likes of Mesh, Front Line Assembly, Decoded Feedback, Fractured, System Syn, Edge Of Dawn, Ghost & Writer, Dismantled, Stromkern, Informatik, Encephalon, KMFDM and more. Released as a digital-only compilation in North America,
Dependence 2011
serves as the perfect introduction to the Dependent label for the uninitiated, and a special treat for long-time fans.
Track List
01. Dismantled - Kill Or Be Killed
02. Click! - TV (Radio Version)
03. Encephalon - Daylight (Remix)
04. KMFDM - Come On - Go Off (Rotersand Remix)
05. Informatik - Something To Believe In
06. Mesh - Is It So Hard? (Remixed by Iris ft. Julia Beyer)
07. Ghost & Writer - Nightshift (Forma Tadre Remix)
08. Fractured - You Are (The Voice Inside My Head)
09. Decoded Feedback - Mind Against Matter
10. Front Line Assembly - Day Of Violence
11. Stromkern - Sub-Librarian
12. System Syn - Chemical (Deathproof Mix by SMP)
13. Veil Veil Vanish - Modern Lust
14. Edge Of Dawn - All The Time (Urceus Exit Remix)
15. Mindless Faith - Down Here (Iron Fist Remix)