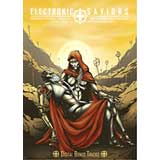 Electronic Saviors 2: Recurrence (Bonus Tracks)
DIGITAL (2012) · Listen & Buy on Bandcamp
ATTENTION: If you wish to order the Premium Edition of Electronic Saviors 2 (with physical versions of these bonus tracks), please click this link : Electronic Saviors Vol.2 Recurrence Premium Edition
Life after having cancer can be a difficult ordeal. One is especially lucky to survive it. After enduring chemotherapy, radiation and a multitude of other therapies, there can be a lingering fear in the patient who is now a cancer survivor. Cancer returning is a nightmare come true to any patient. Scene promoter, DJ and Rein[Forced] frontman, Jim Semonik knows this only too well. Having survived stage 2B colorectal cancer in 2008, Semonik created one of the most successful compilations in any scene with the help of 83 musicians with
Electronic Saviors: Industrial Music To Cure Cancer
. This piece was very well received by press and critics and raised over 20K for Charity.
This time, he assembled a cast of 142 artists from all over the world to take on all forms of cancer. Semonik returns with all guns blazing on
Electronic Saviors 2: Recurrence
with new, rare and exclusive tracks from God Module, System Syn, Project Pitchfork, Hocico, Blutengel, The Dark Clan, Rein[Forced], 16Volt, Ayria, Left Spine Down, Panic Lift and much much more. From Covenant's upbeat "Lightbringer Feat Necro Facility (Speedrun II Mix)" to 16Volt's downtemo "Burn (Father Dub)" to the guitar attack Deathline International's "Inside" to the soothing synthpop of Tenek's "World of no Relief", ES2 offers something for everyone. This will be a massive 6 disc boxset available physically with gorgeous artwork from Jeff Confer and Samantha Johnson. Presented in a lovely 8 panel digipak with 16 page booklet, Jim's quest to bring this disease to an end through music has grown by leaps and bounds.
Jim dedicates this body of work to all who have suffered with cancer as well as survivors and loved ones touched by the disease.
Track List
01. The Empty Stretcher - Nurturing Decay
02. for all the emptiness - i die (revisionist mix by cyanotic)
03. Antidote For Annie - Sanctuary (Refuge Mix)
04. Joshua Hart - Silhouette
05. Cyber Strukture - Ambivalent Frost
06. Black Ring - We Rise
07. Eisengeist - Apocalyptic Visions
08. Surgyn - Sharp As Stars (Terrolokaust Remix)
09. COR3 MATT3R - Madness Not Medicine
10. vircon - Remission
11. Ghost In The Static - Saviour
12. Surviving the Odyssey featuring Jimmy Semtex of Rein[Forced] - Weaponized
13. Platform One - Control
14. Jolexx - Mr. Son
15. Transitional Override - Mechanical Reaction
16. Witness the Apotheosis - Phoenix Effect (Flash Point Mix by New Army)
17. Short To Ground - Somebody To Save
18. The Hose Face - Not On My Watch
19. The Molecule Party - Salvo
20. Mickle Boulevard - Franks' Theme
21. Synthetic Division - The Essence Of Pain
22. Bioassay - Where Did You Go (ES Mix)
23. Process Type - Fading Nothing
24. Shutterdown - Intonement
25. Venus In Furs - Gone
26. Project Rotten - From Hell
27. Veniculture - Inamorata (feat. Jimmy Semtex of Rein[Forced])
28. Hopeful Machines - Heartlikeaphoenizinafirestorm
29. Systematik Violence - Souless Killing Machine
30. Preacher - Hammer Democracy
31. Stoneburner - Apogee
32. Mike Saga Vs. BlakOPZ - Who Drugged Me?
33. Servitor Sanctum 7 - Boom Ra Tech
34. Microwaved - Black Lung
35. DJ Lollidrop - Waiting Game
36. Illusion of Joy - One Step Forward
37. Jordan Decay - Oathbreaker