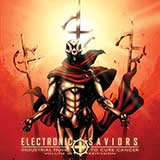 Electronic Saviors Vol. 3: Remission
BOX (2014) · CURRENTLY UNAVAILABLE
Pre-order the Premium Edition directly from the mastermind behind Electronic Saviors, Jim Semonik,
here
.
"You are cured!" These words are a dream come true to any cancer patient. Scene promoter, DJ and frontman of electro-industrial act Rein[Forced], Jim Semonik, returns to give the vile disease of cancer another pummeling with a ton of his friends, comrades, heroes and allies in
Electronic Saviors 3:Remission
. Jim, creator of the series, recently celebrated 5 years cancer free and is eager to share his gift with the world. He was diagnosed in 2008 with stage 2B colorectal cancer and has since made
Electronic Saviors
his dream project along with close friend Chase Dudley (boxed warning). The
Electronic Saviors
series has been one of the most successful compilation series in industrial scene history having already raised over 30K for charity. Semonik once again returns with an armada of talent to shake dance floors and crush eardrums. Brand new and exclusive tracks from Combichrist, 16 Volt, Hate Dept, Stromkern, Rein[Forced], Panic Lift, Ego Likeness, Left Spine Down, Aesthetic Perfection and many, many more make
Electronic Saviors 3
an essential purchase. Limited to 1000 copies, this volume is expected to sell out quickly and become a collector's item. The Electronic Saviors series continues to grow with this 3rd volume. Jim once again dedicates this volume to anyone who has been a victim of cancer in any way, shape or form.
Track List
DISC 1
01. 16 Volt - Ever Careful
02. Stromkern - Lightsout
03. Death Line International - In Den Staub
04. The Dark Clan - A Final Elegant Turn
05. Hell:Sector - Saints Without A Halo
06. Assemblage 23 - Last Mistake (Dominatrix Remix)
07. Combichrist - From My Cold Dead Hands (SIRUS Remix)
08. Modern Weapons - Enemy
09. Null Device - Ashes
10. Velvet Acid Christ - Eternity (Vox Edit)
11. Caustic - Death By Stereo
12. Ludovico Technique - Dead Inside (Remix by Helltrash)
13. genCAB - Siren Song (Quiet Mix by Panic Lift)
14. Lost Signal - Postscript
15. PRUDE - Great Eraser (Caustic's Hummer Of The Gods Mix)
16. The Anesthesiologists - It Never Ends
17. Attrition - Narcissist (Zero Corporation Remix)

DISC 2
01. iVardensphere - Mother Of Crows (Club Mix)
02. Rein[Forced] - Defeated
03. GoFight - The Funk
04. Interface - Fixation
05. Hate Dept. - Biggest Fan
06. The Azoic - Let It All Go
07. Left Spine Down - Side Effect
08. Decoded Feedback - Death Pusher
09. XP8 - Night Run (Ducati Slow Jab by Informatik)
10. Stiff Valentine - Coke Ah Coal Ah
11. Ego Likeness - Sirens and Satellites (Cultural Tourist Mix)
12. Panic Lift - Awake (Dream Kill Mix by Eye Kandy)
13. Shutterdown - Best Revenge
14. Kevorkian Death Cycle - Mind Decay (FGFC820 Remix)
15. Spider Lilies - Father Time
16. Angels On Acid - Wrath Of The Gods
17. din_fiv - Terminal Condition (1999 Tour Version)

DISC 3
01. Christ Analogue - Fuse
02. Cynical Existence feat. Logic Division - In A Perfect World
03. Battery Cage - Forever Never Ends (2013 Version)
04. Dead On TV - Cocaine (GoFight Remix)
05. am.psych - Guns + Drugs
06. Mordacious - Terminal
07. Cesium_137 - Consequence (Crucible Mix)
08. boxed warning - Taggert Terminal
09. Inertia - Hang Around (Saviour Mix)
10. The Clay People - Strange Day (More Machine Than Man Remix)
11. The Rain Within - This Is Alive
12. Aesthetic Perfection - A Nice Place to Visit (Syndroid Remix)
13. Sonik Foundry - Under The Knife
14. Cryogen Second - Killing The Prophet (Mangadrive Remix)
15. NOIR - Timephase (Inertia Remix)
16. Toxic Coma - Ready To Rock

DISC 4
01. I:Scintilla feat. Rein[Forced] - Sins Of The Flesh
02. Cyanotic - Alternating Dilemmas
03. HexRx vs BlakOpz - Terminal Monster
04. Mindless Faith - Minerals (Eroded Remix)
05. Bella Morte - The One Beside Me
06. Informatik - Deliverance
07. Plasmodivm - Your Memories
08. Deathproof - Grimetown
09. More Machine Than Man - Stranger Than Fiction (Razed in Black Remix)
10. Berlin Babylon - Night And Day (ES3 Mix)
11. Blank - Weak Machine (1.2 Remix)
12. Sensuous Enemy - Take You Out
13. Chemlab - Chemical Halo (Burnt Demo Version)
14. Life Cried - This Isn't Happening (Worms of the Earth Remix)
15. Xiescive - Feel The Light
16. XuberX - Ruin
17. Battery - Nevermore (Version 2.0)