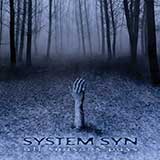 All Seasons Pass
DIGITAL (2011) · Listen & Buy on Bandcamp
Also available:
CD $8.98
System Syn mastermind Clint Carney has shown a unique combination of prolific musical output and compelling artistic vision. An accomplished musician, songwriter, and painter, Carney has fearlessly used System Syn as a cathartic audio outlet for his vision.
All Seasons Pass
is unlike any previous System Syn album. The album tells the true story of the final tragic days of a young woman as seen through her eyes and through the eyes of those around her. From the opening electronic hum of "God Damn", the haunting opening lyrics of "Mercy", the echoing pain of "Homecoming" and the sorrowful, danceable "Confession",
All Seasons Pass
stands as a masterful work of art from one of the genre's most unique and inspiring talents.
Track List
01. God Damn
02. Path of Least Resistance
03. Ordinary Life
04. An Excuse Never Received
05. Mercy
06. Good Night
07. Homecoming
08. Absence
09. The Lesson
10. Funeral
11. Confession
Also See