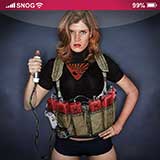 Babes In Consumerland
CD (2013) · $12.98   add to cart Listen & Buy on Bandcamp
Babes in Consumerland
is the new Snog album.
It is also the best album the band has ever recorded.
Coming a full 21 years after their debut left-field dancefloor hit "Corporate Slave",
Babes in Consumerland
sees the band in transition as never before. Though not mentioned explicitly lyrically, band mastermind Dee Thrussell's long journey to recently arrive as a transgender woman informs every musical gesture and plaintive lyric. Still possessed of a striking social conscience and the blackest of humours, "Everything Is Under Control" exclaims a reverie around social conditioning over a hefty shuffle. "Bleak Is My Favourite Chic" chronicles a troubled internal landscape over pogo beat, fuzz-punk bass and squealing analogue synths. Timely and provocative, "Apocalypse Fatigue" pleads for an end, as an EMS VCS3 chirps and a Fairlight CMI choir purrs.
Joined by dear friends and collaborators Atom TM, Felix Kubin, Ash Wednesday, John Justin Stewart (Grace Jones) and The City Of Prague Philharmonic Choir, this is electronic music as you've never heard it before - blindingly articulate, fearless and yet strangely accessible.
2013's incarnation of the legendary Snog is a now an all-female act, a powerhouse trio delivering slyly subversive electronic pop.
You have been warned.
Track List
01. The Plug-In Drug
02. Everything Is Under Control
03. Adolph's Library
04. Bleak Is My Favourite Chic
05. Otto Rahn
06. The Corporate Homoerotic Cyclists
07. The New Cocksucker Blues
08. Soul Invictus
09. 21st Century Lullaby
10. Apocalypse Fatigue
Also See