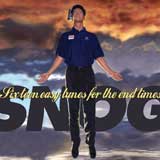 Sixteen Easy Tunes For The End Times
DIGITAL (2009) · Listen & Buy on Bandcamp
Also available:
CD · Sixteen Easy Tunes For the End Times $5.98
Hailing from Australia, Snog has been creating their brand of cynically charged songs for 15 years. From their first dance floor hit in 1992, "Corporate Slave," it was noticeable that the band had a strong disillusionment with the western ideals of materialism and mass ownership. Continuing throughout their career, this idea was expanded upon to incorporate other problems facing human society. Despite the apparently radical inclinations, Snog doesn't regard their lyrics as political, but rather as simple and rather obvious social observations. He doesn't claim to have any revelationary secrets, but sees his lyrics as a frank examination of our humanity struggling within itself. Sixteen Easy Tunes for the End Times is a greatest hits collection of Snog's most influential works to date. Along with the 16 main tracks, there's a bonus section with 16 additional mp3 tracks, as well as lyrics and a poster and artwork gallery.
Track List
01. The Human Germ
02. Late 20th Century Boy
03. Corporate Slave
04. Cliché
05. Real Estate Man
06. Hey, Christian God
07. Fill My Hole
08. Make The Little Flowers Grow
09. Empires
10. Businessman
11. Born To Be Mild (Soma Edit)
12. Hooray!!
13. Real Wise Yuppie
14. The Ballad
15. Old Atlantis
16. Dear Valued Customer (Reprise)
Also See