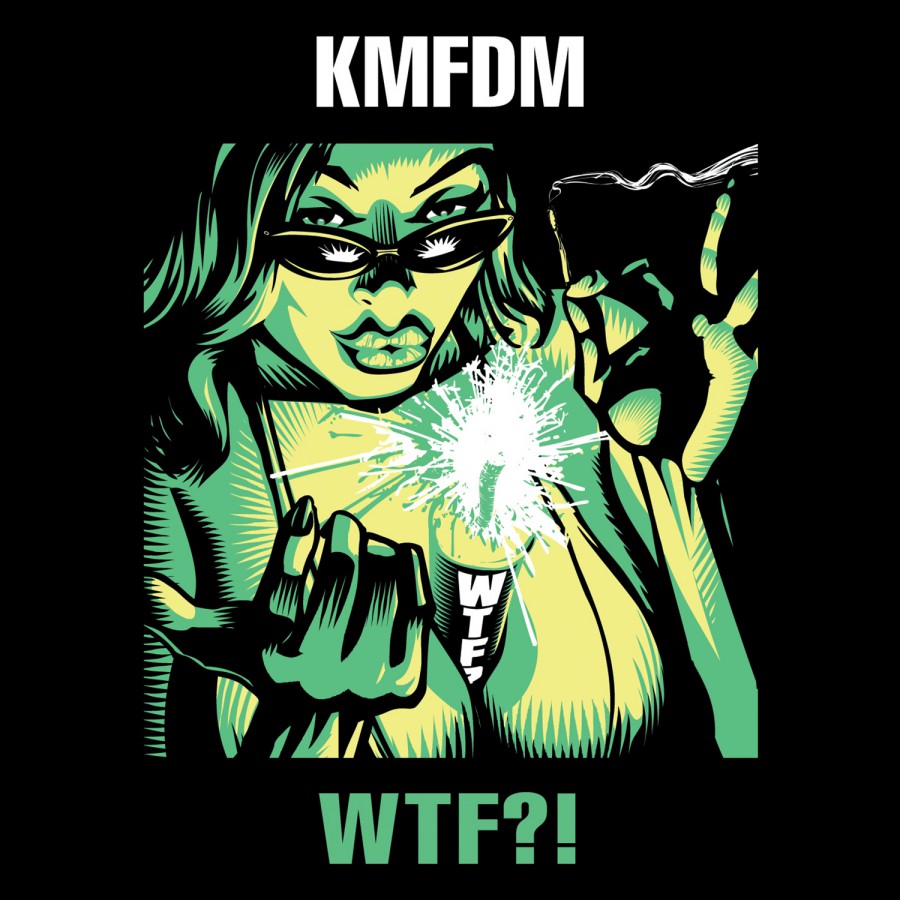 WTF?!
DIGITAL (2011) · Listen & Buy on Bandcamp
Also available:
CD $12.98
Never one to shy away from asking the tough questions, KMFDM gives voice to the inquiry that is on everyone's lips in these twisted times -
WTF?!
.
WTF?!
, the band's new album released on Metropolis Records, joins the ranks of their many records titled with a five character name.
WTF?! features 11 brand new songs, including the album's lead single
Krank
, KMFDM's latest anthem. All in all Käpt'n K. and his Kadets provide over 50 minutes of guaranteed musical mayhem on this new release. Conducted by KMFDM founder, leader and vocalist Sascha K., who believes this is his most powerful and dominate sonic statement to date. KMFDM's female singer, Lucia, proves her vocal prowess on the dreamy yet driving "Dystopia" and the super-charged revolution-themed rocker "Rebels In Kontrol", which has already made news as a protest song in support of Wikileaks. Continuing the band-based formula of recent years, KMFDMers Jules Hodgson, Steve White and Andy Selway round out the roster.
It will come as no surprise to followers of KMFDM to learn that
WTF?!
is laden with contributions from Kompatriots far and wide. Static-X guitarist Koichi Fukuda can be found shredding on the noisy "Come On – Go Off". William Wilson of KMFDM Record's Legion Within lends his vocal talent to "Spectre". Picking up where Blitz's "Strut" left off, the disco-fueled "Take It Like A Man" showcases Lucia dueting with Free Dominquez of Kidney Thieves. Sebastian Komor of Komor Kommando and Icon Of Coil's production on multiple tracks as well as input from stray KMFDM member Bill Rieflin top off this impressive list.
While this is not their first album title to contain a question mark (that would be their 1986 debut album
What Do You Know, Deutschland?
) this is the first to feature an exclamation point. Regardless, it was only a matter of time before this happened as few bands make more sloganized exclamations than KMFDM. The
WTF?!
artwork features a humorously suggestive, yet ultimately destructive cover illustration by KMFDM contributor Brute!. A fitting visual for this sly but brutal release.
On
WTF?!
, listeners will find a new addition to the menagerie of languages employed by KMFDM (English, German, Latin, Hebrew, Lingala (an African language), Spanish and Russian) as the band further proclaim themselves citizens of the world with "Panzerfaust", sung in Italian. This time out KMFDM break their own formula of including a cover song on the last three albums.
WTF?!
is pure KMFDM through and through.
With
WTF?!
KMFDM once again has given notice to the mainstream that "Whatever you stand for, we do not!", be prepared as, "It's a f**kin' takeover!". For those who dare to ask
WTF?!
, you have been warned, KMFDM take no prisoners.
Track List
01. Krank
02. Come On - Go Off
03. Rebels In Kontrol
04. Lynchmob
05. Take It Like A Man
06. Vive La Mort
07. Dystopia
08. Panzerfaust
09. Spectre
10. Amnesia
11. Death And Burial Of C.R.
Also See