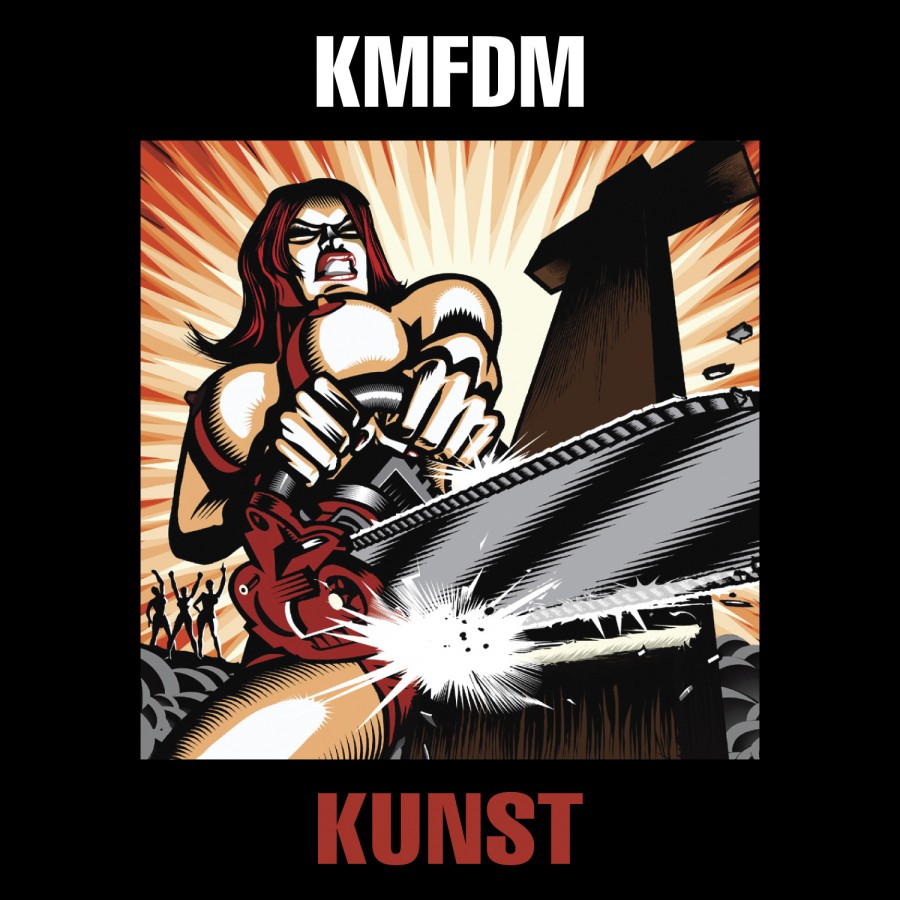 KUNST
DIGITAL (2013) · Listen & Buy on Bandcamp
Also available:
CD $12.98
Vinyl · [Limited Edition LP Vinyl] $15.98
Get the Limited Edition Vinyl version here!
February 26, 2013 sees the release of
KUNST
, the latest offering from KMFDM, the purveyors of The Ultra Heavy Beat. "KUNST" is German for "ART", fitting for a band that has spent three decades conceptualizing its own brand of art war against the establishment.
KUNST
is bombastic musical graffiti, showing the band making another indelible mark on the walls of society.
Sascha, Lucia, Jules, Andy & Steve kick things off with the snarky title track, instant payoff for long-term fans and newbies alike, then delve into freakadelic mayhem, seamlessly blending their anarchic signature sound / themes with elements of punk, industrial and EBM.
KUNST
is the passageway into the very abyss, the unknown depth of a staple we took for granted over the years, commonly known as KMFDM. Relentlessly pouncing headlong into tracks named "AVE MARIA", "QUAKE", and, as a show of solidarity for the jailed Russian punk band, "PUSSY RIOT", KMFDM expose the underbelly of societies' shortcomings, tracks such as "HELLO", "PSEUDOCIDE", "ANIMAL OUT" and "I <3 NOT" show that entering into its 30th year, KMFDM is definitely "doin' it again", but catching us off-guard this time around!
Contributions by Swedish cult band MORLOCKS and LEGION WITHIN's William Wilson add further fuel to this fury,
THE MESS YOU MADE
and
NEXT BIG THING
are rock-solid statements against the eroding forces that leave no rock unturned in the effort of undermining our societies, yet stalwartly we stand united, counting down the days until February 26, 2013!
Track List
01. KUNST
02. AVE MARIA
03. QUAKE
04. HELLO
05. NEXT BIG THING
06. PUSSY RIOT
07. PSEUDOCIDE
08. ANIMAL OUT
09. THE MESS YOU MADE
10. I ♥ NOT
Also See