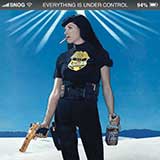 Everything Is Under Control (digital only)
DIGITAL (2013) · Listen & Buy on Bandcamp
Out today is the brand new SNOG digital E.P "Everything Is Under Control". A taster for their forthcoming album "Babes In Consumerland", the E.P. features 6 tracks (most of them not available on any other format).
Remixes come from noted Midnight Juggernauts producer/collaborator Byron Scullin (Spiderface), prodigious U.K electro producer Sir Real, antipodean techno producer Digital Primate and Australian synth/new wave pioneer (and Einstürzende Neubauten member) Ash Wednesday.
The surprisingly cheerful (and yet quite cheeky) "Everything Is Under Control" might just be the closest Snog have ever come to a (joyously snide) pop/electro anthem.
Remixes range from the chattering dancefloor swing of Spiderface to the cavernous atmospherics of Ash Wednesday. The E.P. finishes with the muted post-orchestral ambience of "The Lament Of The Lost Sheep".
The highly entertaining video for "Everything Is Under Control" can be seen at: http://www.youtube.com/watch?v=dFaqsc4lNyk
Track List
01. Everything Is Under Control
02. Everything Is Under Control (Spiderface Remix)
03. Everything Is Under Control (Sir Real Remix)
04. Everything Is Under Control (Digital Primate and Ehsan Gelsi Remix)
05. Everything Is Under Control (Ash Wednesday Remix)
06. The Lament Of The Lost Sheep
Also See