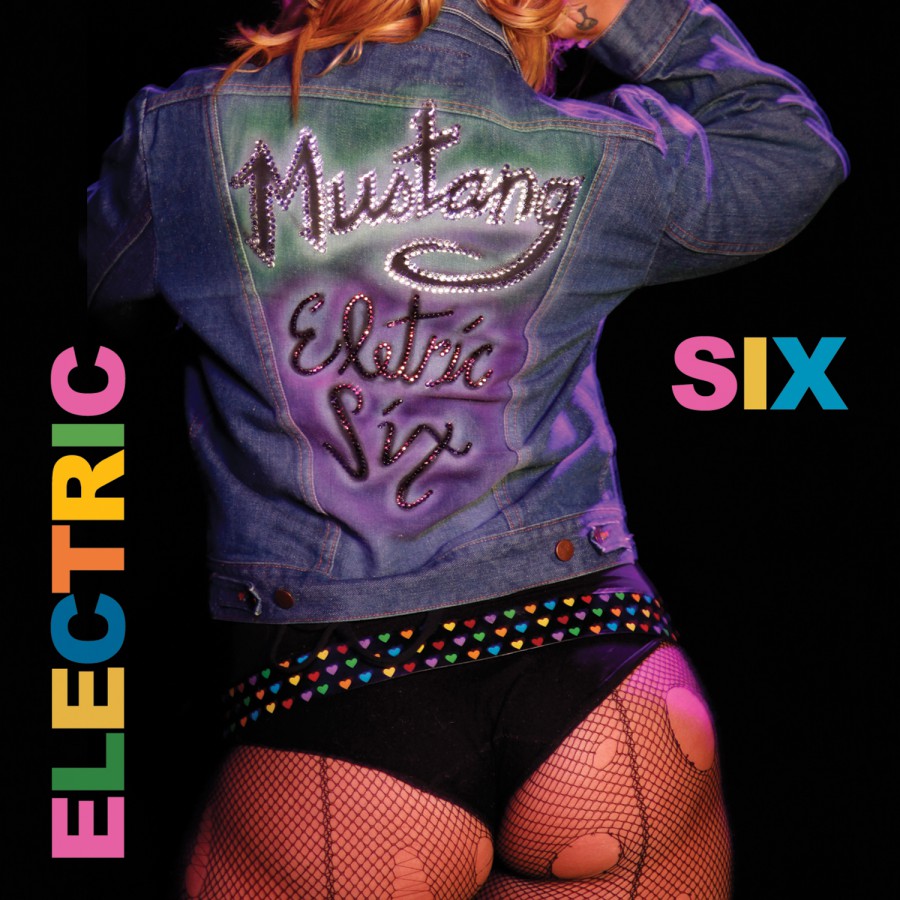 Mustang
DIGITAL (2013) · Listen & Buy on Bandcamp
Also available:
CD $12.98
The wild horse. We romanticize this magnificent creature and rightly so. We marvel at the horse that dares to run free through mountain streams and mountain shit, forging his own path, blazing his own trails. We marvel at his dangerously high sperm count and his ability to mount and fuck. We know he spends his downtime whinnying in delight that he is never going to spend his life partially encased in leather, serving no other function than to trot slowly with his head hanging down miserably alongside other poor souls just like him as they carry a field trip of fourth graders from the suburbs who crack themselves up whenever he sports an uncontrollable erection. The wild horse…gets hard whenever he wants. And nobody laughs. And he loves that about himself.
The American male needs to feel like a wild horse from time to time. Electric Six is a band from Detroit comprised of six American males. The American male, upon birth, is issued three Wild Horse Cards™ from the United States Department of Agriculture and he can play this card at any point in his life when he needs to feel like a wild horse for a year. 2013 is the year that all six members of Electric Six are electing to play one of their cards at the same time. The result is Electric Six's ninth studio album,
Mustang
.
The band is recharged having taken its first "break" from making a studio album in seven years. Couple that restored energy with the playing of the six Wild Horse Cards™ at the same time, and
Mustang
is the audio story of Electric Six reaching the summit of Mt. Good Times.
Producer Johnny Nashinal is the sherpa, executing a 14-track ascent that leaves everyone gasping for oxygen, but in the best possible way. The Roky Erikson-meets-T.Rex opener "Nom de Plume" makes it clear right away that Electric Six has got that whole "let's do a synth and drum machine record" thing off their chest, and they've brought their guitars, their drums, and their blood-curdling screams for this one, yes indeed. The album then winds through the psych-pop of "Jessica Dresses Like a Dragon", the Pavement-pop of "Show Me What Your Lights Mean", and the aggro-pop of "Adam Levine".
But this is Electric Six, mind you. They are the band that will never be tied to just one sound. And so we also find on
Mustang
a first-time dip of the toe into the P-funk pool in "Late Night Obama Food", as well a stroll down ABC lane for "The New Shampoo". And W. Axl Rose will be looking down from wherever he ended up with a big smile as we get to the summer amphitheatre-friendly "I Never Fucked Her".
The anchor track "Iron Dragon" is the most compelling story, not only for its ability to sound like both a Nick Cave ballad AND a Warrant/Poison/Skid Row ballad, but also for something much more profound. The outro of "Iron Dragon" was recorded in Moscow's Red Square, a choral squadron comprised of the six American males from E6 singing alongside several Russian females. There is nothing that makes an American male feel more like a wild horse than singing with Russian girls in the very place where freedom came to live and die, live again hey baby maybe not so fast.
Mustang
is Electric Six's ninth studio album. It is distributed by Metropolis Records and will be released in October 2013. You can come see Electric Six on tour in the United States in September and October on the "Save The World, Save The World" tour. And look out for Electric Six in the UK and parts of Europe in November and December.
Track List
01. Nom de Plume
02. Jessica Dresses like a Dragon
03. Show Me What Your Lights Mean
04. Adam Levine
05. Cranial Games
06. The New Shampoo
07. Iron Dragon
08. Late Night Obama Food
09. I Never Fucked Her
10. Miss Peaches Wears an Iron Dress
11. Unnatural Beauty
12. Gimme the Eyes
13. Skin Traps
14. Cheryl vs. Darryl
Also See