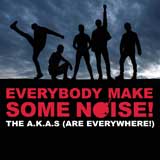 The A.K.A.s (Are Everywhere!)
Everyone Make Some Noise!
DIGITAL (2009) · $8.90   add to cart
Also available:
CD · Everybody Make Some Noise! $8.98
Combining raucous guitars, compulsive rhythms, ominous organs and manic vocal diatribes, The A.K.A.s musical delivery is smartly served in a sophisticated package of defiance, self-empowerment, and social change. Covertly tucked in catchy choruses and consonant hooks, the band's message is as coherent and authentic as it is vital.
Darkly endearing with smirky quips, The A.K.A.s have perfected the art of contrast with a collection of 12 daringly confident tracks designed to create a fearless uproar from city streets to suburban strip-malls with equal indifference. Epitomized by guest appearances from JT Woodruff of Hawthorne Heights, Chris # 2 of Anti-Flag, and Jello Biafra of The Dead Kennedy's, the fivesome walk a bold line of individuality with no apologies.
Timely, pertinent, and urgent in a desperate musical and social climate, The A.K.A.s persist as a heartfelt protagonist of youthful fervor and unrest. Their newest album, Everybody Make Some Noise!, serves as the alternative to today's alternative music, so prepare yourself to fight, fuck, dance and destroy with The A.K.A.s.
Listen & Buy
| | | | | |
| --- | --- | --- | --- | --- |
| | This Is The Way We Move | 2:43 | $ 0.89 | buy mp3 |
| | Confessions Of A Dangerous Mouth | 2:46 | $ 0.89 | buy mp3 |
| | Dead Flowers Forever | 2:36 | $ 0.89 | buy mp3 |
| | In Case I Die Tonight | 2:45 | $ 0.89 | buy mp3 |
| | Little Miss Apocalypse | 2:42 | $ 0.89 | buy mp3 |
| | We Write Our Own Anthems | 3:23 | $ 0.89 | buy mp3 |
| | Deaf Before Dishonor | 4:27 | $ 0.89 | buy mp3 |
| | Everything Is A Commercial | 2:50 | $ 0.89 | buy mp3 |
| | Let Your Mamma Know | 2:22 | $ 0.89 | buy mp3 |
| | Knives On 45's | 3:10 | $ 0.89 | buy mp3 |
| | Paranoia Is A Skill | 2:53 | $ 0.89 | buy mp3 |
| | Tools Of The Tirade | 3:23 | $ 0.89 | buy mp3 |